Discover more from Top of the Lyne
Join revenue leaders from Canva, Stripe, Notion, Figma, and 1,000s of other PLG companies 🙌🏼
Over 11,000 subscribers
3 strategies Shopify used to build a $200B platform 📈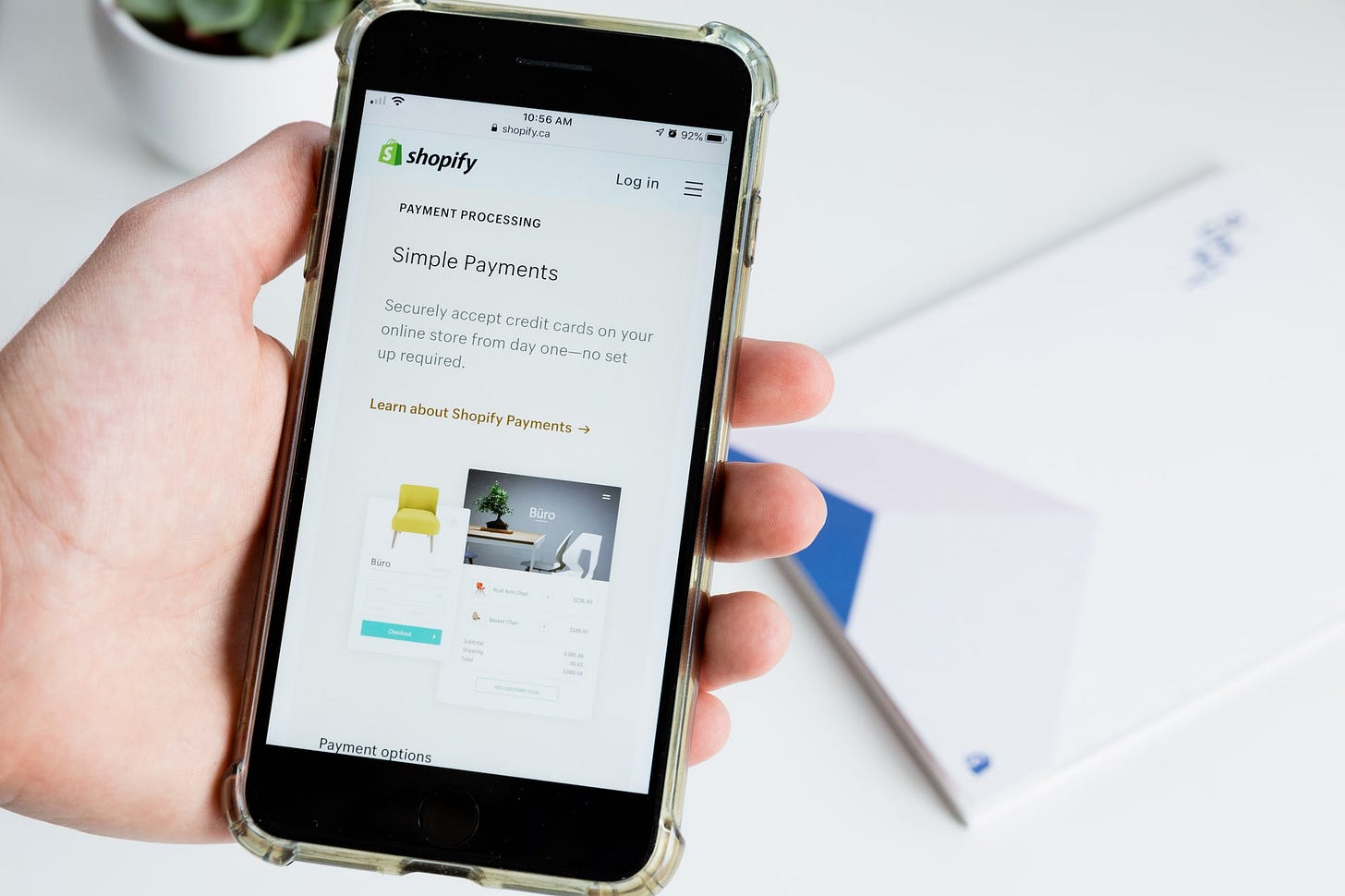 Very few organizations around the world can hold claim to revolutionizing the industry they operate in. Having powered 1.7 million businesses to do a colossal $314B from its inception in 2005, it's safe to say that Shopify has done this for how the world buys and sells. The Canadian startup that raised $122M before finally going public in 2015, has evolved from tool to platform to ecosystem, and describes itself as "The all-in-one commerce platform to start, run, and grow a business."
No, this is not another founding story. Let me get Tobias Lütke - Founder & CEO to cover that:
"It feels like yesterday that my co-founders and I were working out of a coffee shop trying to find the best way to sell snowboards online. Our options were either wildly expensive or painfully complicated, so we built our own. It didn't take long to realize we should stop selling snowboards and start selling the software we created to build the store. That was the best decision of my life." - Tobi Lütke, Founder & CEO, Shopify
What we'll do instead is to discuss three key strategies that Shopify employed that are applicable to those chasing product-led success:
1) Taking on a giant? Build an army and incentivize it 💰
When it comes to e-commerce there is one giant that sends shivers through any newcomer's spine - Amazon. Several worthy foes have tried and failed - ask Walmart! But perhaps each of them was wrong. Taking on an incumbent and dominant "aggregator" at its own game might be the most predictable losing strategy. The scale benefits that the incumbent enjoys make countering new advances exponentially easier (and cheaper!) than making those advances. Shopify's strategy relied on creating a "platform" that allowed 1.7 million businesses to run diversified businesses with no singular risk of failure to the mothership. It is this differentiation that equips Shopify to go head-to-head with Amazon. However, this differentiation posed a huge demand of its own - the need for massive scale and to attend to a multitude of custom, often localized needs! This is where Shopify's open API platform approach bore fruit.
Leading up to 2009, the leadership team noticed an organic pattern developing on their open API. Designers, developers, and agencies (that would soon form the foundations of the Shopify Partner Program) —were already helping Shopify merchants in a variety of ways, including using Shopify APIs to modify their stores. At times, they made the same modifications repeatedly for different clients looking to solve the same problem.
"Those developers were actually the ones who came to us and said, 'I'm doing the same thing over and over again. Is there a way I can build this once and sell it to people?' Luckily, the team had already been thinking about that—partners saw an opportunity, Shopify saw an opportunity, and merchants loved it." - Atlee Clark.
And that marked the birth of the Shopify Partner ecosystem! Partners could now build and monetize custom solutions that merchants could plug into their online store. But Shopify didn't stop there.
The company rolled out a lucrative merchant referral program with the ability to earn anywhere between 10-20% of a referred merchant's monthly subscription fee - in perpetuity! The success of the program is apparent through the numbers - over 42,000 Shopify partners referred merchants to the company in 2020. Assuming an average of 1-2 merchants per partner, that's anywhere from 50-100k merchants each year!
2) Close the loop for your customers! Become a one-stop-shop 🛒
The worst fear of most companies is to be a one-off point solution for its customers. A solution to one acute pain point, with low applicability beyond it. This is where the best (multi-product) companies separate from the rest - Hubspot, Salesforce, Stripe, and Shopify!
Technological advancements in the last 2 decades have made buying and selling more accessible and efficient than ever. First came Multichannel commerce, recognizing that there are multiple avenues (online store, retail, socials, marketplaces to name a few) that a customer can buy from, and simply being available everywhere can supercharge revenues exponentially. This was augmented by Omnichannel commerce, streamlining and integrating the multiple channels available combing data science and marketing automation. Remember the time your apps spoke to each other behind your back to convince you that you needed new kicks?
While both strategies undoubtedly increase sales and improve customer experience, it's not a very easy process to set up. Businesses need to reach all the relevant channels, manage inventory & purchases across all, and develop tech infrastructure to streamline and invoke Omnichannel workflows. If only someone could enable this, right? Shopify and its ecosystem in a masterstroke of long-term vision, continuous development, and product prioritization developed integrations using which a merchant could sell across channels and invoke 'Omni'. Merchants could:
Create their own online stores

Embed buy buttons and checkout pages on their custom-made website/blog

List directly on marketplaces like Amazon and eBay, and social media platforms like Facebook and Instagram via Sales Channels.

Integrate offline/online via Shopify POS for brick and mortar use cases!
3) Stick to your core competencies! For everything else outsource ⛴
Where its competitors live primarily off of subscription software revenue, Shopify's approach has always been to offer its easy-to-use website builder for as cheap as possible and monetize through growth in payments, shipping and financing instead. Both approaches have their merits and demerits:
The prior approach is faster to start, more predictable, but caps the upside a business can see when its merchants grow.

The latter (Shopify's approach) is slower to start, more volatile through its early years, but has tremendous upside in explosive growth along with your customers at scale!
And in a world obsessed with 'growth', Shopify has played its cards to perfection. So much so that nearly 70% of the company's revenue as of 2020 came from 'merchant solutions' and not software subscriptions!
Although Shopify's focus on merchant solutions is unique - what's most interesting is their partner-led approach in building key functionalities:
🧾 Payments: Powered by Stripe! In most geographies, Shopify payments is essentially a wrapper with Stripe underneath it. A transaction costs a merchant anywhere between 2-3% - over half of which goes to Stripe! That's over $1B of revenue per year lost to another company, despite having the ability to build a payment gateway. So why doesn't Shopify build payments itself? The answer is at the heart of the company's product-led philosophy and customer obsession. Partnering with Stripe gives Shopify's merchants a best-in-class experience and affords the company the ability to focus on what they are best at.
🚛 Fulfillment network: In June 2019, Shopify launched its Fulfillment Network for merchants looking to outsource fulfillment. Shopify outsources the actual job of fulfillment to its partner network of fulfillment centers dispersed across the United States to ensure merchants' orders are delivered to buyers quickly and cost-effectively. Shopify itself has stuck to its core competency and has invested heavily in inventory-allocation technology, powered by machine learning, which can predict the closest fulfillment centers and optimal inventory quantities to be held at each location. Shopify will be allocating $1bn to that initiative over the next five years, attempting to get orders to end customers faster and cheaper than with other alternatives.
Shopify financials paint a picture of not just a large SaaS business but an even larger (and thriving) financial services and logistics giant!
What's next? ⏩
The Total Available Market (SMB) for Shopify is estimated to be 68-70M merchants indicating significant TAM penetration opportunities for Shopify's product-led growth engine (from a current 2.5%). With unprecedented growth in e-commerce and fundamental changes in how business is done, brought about by a global pandemic, Shopify must expand to remain the leader of the pack. Shopify plus and the battle with Magento for enterprise customers (Large brand TAM) is expected to be a priority while innovation in global inventory management capabilities, headless commerce, conversational commerce, and experience (AR, live listings, etc) is expected to take center stage. The sky is the limit for Shopify, and we're excited to see how the company democratizes commerce and enables the little guys to take on the giants!
Convert your freemium users with sales
Identify product-qualified leads (PQLs) Within minutes, no engineers, no code!