Discover more from Top of the Lyne
Join revenue leaders from Canva, Stripe, Notion, Figma, and 1,000s of other PLG companies 🙌🏼
Over 10,000 subscribers
The trillion dollar question... ANSWERED! The Mount Rushmore of SEO, and more...
👋 Hey, Ruchin here! Welcome to this week's edition of the ✨Top of the Lyne✨ newsletter. Each week we publish the hottest news from the beautiful world of product-led growth! (PLG)
The outcome we're shooting for is simple... to get enough folks excited about the product-led world that we so dearly love ❤️
Subscribe to get this newsletter every week👇
---
Into the Twitterverse 
🐦🌌
The trillion-dollar question 🤑

As SaaS market caps enter the 10 figures, the question on everyone's mind…What should a hypergrowth company (>80% YoY) like Snowflake be worth? ❄️

And if you ask Jamin Ball, the answer is 20-25x NTM revenue 🤷🏻‍♂️

And with 178% NRR holding fairly steady, it looks like Snowflake is going to be a 'hypergrowth' company for quite some time 🚀
The Mount Rushmore of SEO 🏔

Hubspot STILL gets 26% of its net new users from SEO.

And frankly, it's not surprising! It's a common theme across the best PLG businesses operating in large markets with millions of users. Canva. Zapier. ClickUp. Millions of backlinks painstakingly acquired through the years leading to 10s/100s of millions of page views a month.

If you're a young PLG business, invest in SEO. You won't regret it 😉

From mainstream to contrarian… WAGMI 🔥

Did he just say enterprise, payroll… compliance… AND… HR?!
---
🔎 The PLG hunt
Your daily stand-ups are missing one crucial ingredient: Spinach.

Spinach.io helps you structure your daily stand-up meetings and facilitate sharper, focused updates.

Spinach cuts through the song and dance of unstructured stand-ups and other recurring meetings.

Through features such as ice-breakers, an agenda & timer, a parking lot for thoughts and questions, and a meeting summary in Slack, Spinach reduces overhead in running what should be very simple meetings.

Spinach makes the promise of cutting meeting times in half, and could quickly become a staple of remote work!

Which hot and upcoming PLG company are you most excited about? 👇🏻
---
Growth Stories 🚀
This week, we put the "PLG CRM" under a microscope and pressure test the hypothesis that the answer to the monetization struggles of PLG companies is a new CRM.
Verdict - We call bullsh*t.
Official transcripts of the trial, as reported from the courthouse 👇
---
Fundraising, Venture Capital and Exits 🤑
SaaS data collaboration platform Atlan raised $50M in Series B funding yesterday 🎉

The latest round was led by Salesforce Ventures, Insight Partners, and Sequoia Capital India with participation from Taylor Brown (Fivetran founder) and Ajeet Singh (ThoughtSpot founder), along with existing investors Waterbridge Ventures.
All-in-one sales intelligence and engagement platform Apollo raised $110M in Series C 💰

The platform finds prospects and derives deeper insights on them from a database of 220M+ would-be buyers
Apollo.io
raises $110M as its crosses 16K paying users of its sales intelligence platform
tcrn.ch/3hxz3lu
by
@ingridlunden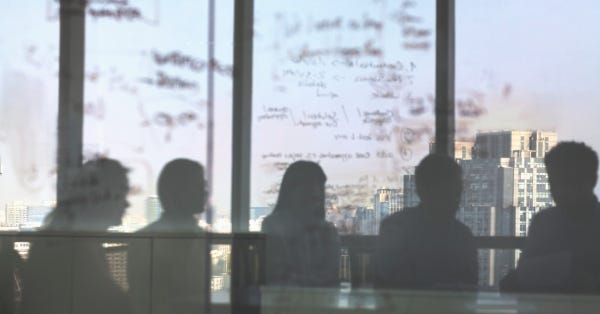 tcrn.ch
Apollo.io raises $110M as its sales intelligence platform crosses 16K paying companies – TechCrunch
One of the bigger impacts of COVID-19 has been that more business than ever before is now being carried out online. To meet that opportunity, today a startup called Apollo.io has raised $110 million. Apollo built an all-in-one sales intelligence and engagement platform to find sales prospects from …
Speech-to-text API AssemblyAI raised $28M in series A funding led by Accel, with participation from Y Combinator, the Collison brothers (Stripe), Nat Friedman (GitHub), and Daniel Gross (Pioneer)

That's some line-up. ⭐️
Launches, events, and releases
Hi there subscriber - if you're reading this from your inbox, you could instead be doing so through the new Substack app!

All your subscriptions now tuck neatly into one app and a dedicated inbox.

"It offers a quiet space to read, where the work itself is given the spotlight and you're not pulled into status games or trivial diversions" - reads the official blog post announcing the app, that's soon coming to Android.
Megathread of all Notion features announced at "Block by Block" 2022:

Including the Notion API coming out of beta, a new sidebar, database customizations, and more. 👇
Nerding out on PLG 🤓
📚
This week we're nerding out on the latest Twenty Minute VC podcast:
Head of Revenue & Growth (Americas) at Stripe, Jeanne DeWitt Grosser in conversation with Harry Stebbings on all things Sales at Stripe and Dialpad (where she was CRO). Jeanne talks about her entry into Sales, the 101 of creating a playbook, hiring salespeople, onboarding, and more.
Dive in 👇
---
---
Some housekeeping…
Is your mailbox trying to keep our content away from you! 💔 What can you do about it? Mark this email as 'not spam' 😱 or move it from your promotions to the primary folder 👉🏻 It's very easy!
Thanks again, and please tell a few friends if you feel like it.
---
How did you like this week's newsletter?